New Work brings
new HR challenges.
Classic labour law alone
will no longer meet
them head on.
The world is changing rapidly – and the world of work with it. As a result, the HR sector faces complex challenges. Matrix structures, human capital management, whistle-blowing, transformation projects, big data, artificial intelligence and crowd working are just a few of the fields that aren't covered by classic labour law – yet they have either already arrived in the corporate world or will do soon.
For this same reason, classic labour law consultancy services aren't always what corporate organisations need.
HR.Law by ARQIS is an innovative and holistic consultancy concept covering all legal aspects of HR – from employment law and compliance to occupational pension legislation, supervisory law and data privacy. We advise management boards, directors, HR executives and legal counsels, and represent clients in their dealings with authorities, as well as in and out of court. We understand the challenges, bring the necessary expertise to the table and collaborate on solutions. Our approach is interdisciplinary, strategic, added-value oriented, effective and pragmatic.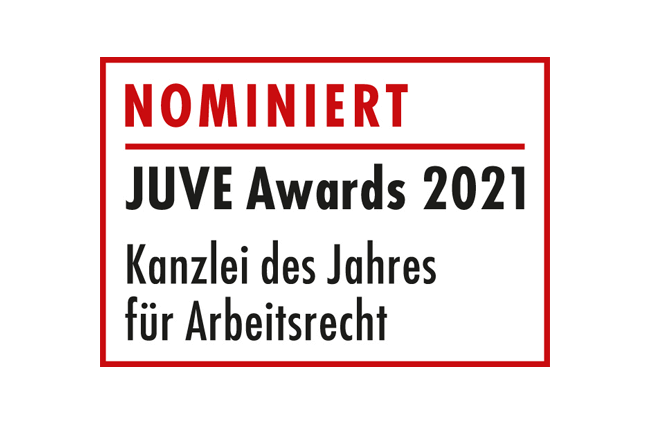 We are pleased: ARQIS has been nominated for the "JUVE Awards 2021" in the category "Law Firm of the Year for Labour Law"
The winners in a total of 18 categories will be announced on 28 October 2021 at an awards ceremony at the Alte Oper in Frankfurt and via live stream.
We have HR competence in the following areas:
Restructuring / change
We offer:
Advice on operational changes (e.g. restructuring, staff cuts, relocations, operational limitations and plant closures) from the planning phase, through negotiations on interest reconciliation and social compensation plans to protection against dismissal lawsuits
Preparation and implementation of staff cuts, particularly mass redundancies, set-up of job creation and transfer companies
Support in outsourcing projects, business transfer solutions, drafting of notifications pursuant to section 613a, para. 5 of the German Civil Code (BGB)
Support in European company (SE) foundations, negotiation of co-determination agreements
Health care
Our legal experts offer competent advice on all aspects of health care, from labour law in hospitals or care homes to special employment contracts for senior consultants.
Compensation systems, participation schemes and pay transparency
Regulatory requirements for banks, asset managers and other financial services companies necessitate special supervisory and labour law expertise (including CRD IV/V, the German Remuneration Regulation for Institutions (InstitutsVergVO), the German Capital Investment Code (KAGB), AIFMD and UCITS) when it comes to compensation systems and sound compensation …
Works council compensation and partner management
The compensation paid to works council members is a politically sensitive issue and, in addition to that, the employer and works councils often operate in a legal 'grey zone'. We support organisations in finding solutions that bridge the very narrow gap between discrimination and preferential treatment.
Cooperation is always better than disunity. ARQIS has an established reputation for its cooperative approach to achieving consensus in negotiations between employer representatives and their works councils, and to ensuring win-win outcomes.
We advise clients on industrial constitutional law problems, the negotiation of works agreements on a comprehensive range of subject matters and the implementation of any necessary arbitration committee proceedings.
Transactions
In a merger scenario issues such as incompatible pay systems and different corporate cultures can often have a detrimental effect on the transaction and in the worst case scenario, cause its failure. Our strong background in labour law makes us familiar with the risks involved and enables us to provide effective support throughout the entire transaction. Our services:
HR due diligence, negotiation and drafting of labour law clauses in company acquisition contracts
Post-merger integration, particularly harmonisation of employment conditions, works agreements, pay scale changes
Learn more
in the Focus group Transactions
We represent our clients in all stages of litigation, at labour or civil courts – and in disputes with senior executives or management board members.
Employee data protection
In HR management and controlling it is important to ensure the responsible and professional handling and IT-based analysis of personal data. This particularly applies when analysis and decision processes are automated or digital, for example, if algorithms or artificial intelligence …
HR Compliance
There is a clear trend in current court decisions and legislative proposals: compliance is no longer an option, it's a must …
Company pension schemes
Company pension schemes are a long-term and complex salary component that merit special attention for many reasons. The ARQIS Pensions Group provides employers, pension funds and pension consultants with advisory services based on more than 30 years of leading-edge expertise in company pensions extending to all pension-related areas of law (employment law, tax law, social insurance law, accounting law, insurance [supervision] law etc.), and we operate in interdisciplinary and cross-sector networks.
How can we help you?
If you have any questions about the HR.LAW focus group please feel free to mail us.